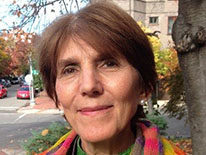 Mary Lord is an award-winning journalist and longtime Dupont Circle resident and has served on the State Board of Education since its inception in 2007. She was elected to be the At-Large member in November 2012, after representing Ward 2 for four years, and Wards 1 and 2 for some 16 months before that.
Mary's articles have appeared in a variety of local and national publications, including US News & World Report, where she covered K-12 and higher education after stints as Tokyo bureau chief and business editor. She currently focuses on science and engineering education as a reporter and editor for the American Society for Engineering Education's Prism magazine and Engineering, Go For It, a lesson-packed monthly e-newsletter for K-12 science and engineering educators.
In addition to her work on the State Board, Mary serves as President of the National Association of the State Boards of Education–giving the District of Columbia a voice in the national education policy debate. She also is a board member of the Dupont Circle Citizens Association, a community volunteer, and an ardent fan of high-school theatrical and musical productions, science fairs, National History Day, and youth sports, especially soccer.
An honors graduate of Harvard, Mary earned her bachelor's degree in East Asian Studies, with a focus on Japanese history and language. She and her husband, a TV news editor, have two children.
Twitter: @MaryLordDC