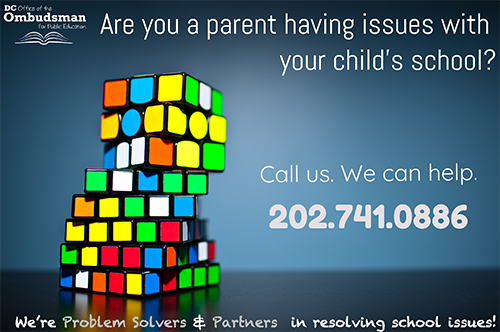 A complaint may be filed by any individual or organization as long as the student in question attends a District of Columbia Public School or DC public charter school. We accept complaints via our intake hotline (202) 741-0886 and email at [email protected]. We also can conduct intake meetings in person. We prefer that complainants call ahead to schedule a time for an in-person intake meeting. We will ask all complainants to provide us with their contact information, information about the student, a summary of the problem, and their proposed resolution.
We accept complaints regardless of the language spoken by the caller. For callers who do not speak English, we use telephonic interpretation.


Note: We are accepting intakes by phone and email. Please email [email protected] or call (202) 741-0886 and include your name, email address, and brief summary of your issue, and we will respond to you within 24 to 48 hours.

Nota: Estamos aceptando los sistemas de admisión por teléfono y correo electrónico. Nuestro sistema de admisión está actualmente abajo. Envíe un correo electrónico a [email protected] o llame al 202-741-0886 e incluya su nombre, dirección de correo electrónico y breve resumen de su problema, y le responderemos dentro de las 24 a 48 horas.