Student Representative Applications for SY2018-19
Thank you to all of the motivated students in the District who applied to serve as Student Representatives on the State Board next year. We are currently reviewing all applications and will notify all those who are selected to serve within the next few weeks.
SY2017-18 Student Representatives
Tallya Rhodes from HD Woodson High School (Ward 7) and Tatiana Robinson from Ballou High School (Ward 8) served as the State Board's student representatives for 2017-18.
Tallya Rhodes is a senior at H.D. Woodson High School (Ward 7) and is a resident of Ward 5. A member of the Youth Advisory Council and a delegate for the DC STEM Program, Ms. Rhodes is committed helping the voices of all students be heard.
Tatiana Robinson is a junior at Ballou High School (Ward 8) and is a resident of Ward 7. Ms. Robinson serves as Vice President of the Ballou Book Club and is a member of the Principal's Honor Roll. She looks forward to being a voice for students, knowing that the power of an education can be life-altering.
Student Representatives serve for one school year from September to June. They participate in all SBOE activities and are considered as full members of the State Board. Their votes are recorded, but cannot affect the outcome of any policy measure. Student Representatives are expected to attend all official SBOE meetings. Meetings of the State Board occur in the evening twice monthly on the first and third Wednesday of each month. In addition, Student Representatives co-chair the Student Advisory Committee and are responsible for setting the agenda for the Committee.
Testimonials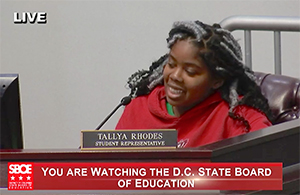 Tallya Rhodes
2017-18 SBOE Student Representative
HD Woodson High School - Class of 2018
"The position of Student Representative is a voice in itself. It is a reminder to the Board members that their decisions affect students. I am able to exercise that voice in a way I could not before. Members of the Board have supported me and listened to anything I needed to say, taking it into account. I learned what It meant to have the power to bring change from the simplest actions. This is a lifelong experience that sticks with you no matter where you go. I improved as a person from being there. I will this with me everywhere I go."
Tatiana Robinson
2017-18 SBOE Student Representative
Ballou High School - Class of 2017
"I am so proud and honored to say that I have served as the State Board of Education Student Representative and the Co-Chair of the Student Advisory Committee. As a student representative, I am the liaison and voice between the student population of the District of Columbia and policymakers for education. This role has helped me develop tremendously and has allowed me to discuss how my education is affected by decisions being made. I have also become more passionate in being sure that student voices are heard. My peers have also put trust in me to be the voice of our education. I have worked with students from so many DC high schools to discuss the goals we expect to meet as a district. We have also discussed having equitable opportunities and resources for all of our education. I have been the leader of creating a mentorship program, leading meetings, sharing correspondence via email, and interaction with some leading policymakers."